Finding the perfect gifts for Moms who have everything is never easy! She will always tell you she has everything and needs nothing. However, you know that she deserves the world for all her sacrifices and love through the years. This guide is chock full of a wide variety of unique gifts for Moms who have everything from skincare devices to kitchen tools, blankets, gardening gadgets, and more that will show your Mom how much you care! Gifts for moms who have everything don't need to be intricate or elaborate, they can be simple and meaningful because we all know moms will love any gift from those they love.
---
Amazing Gifts For Moms Who Have Everything
Who doesn't love the taste of homemade ice cream? If your mom doesn't – she's lying! Because if ice cream doesn't agree with her belly, there are always options like frozen yogurt and homemade sorbets to enjoy this Mother's Day! So, if you're searching for gifts for Moms who have everything, your mom (who totally admits she loves these kinds of treats) is secretly desiring a delicious and easy way to enjoy homemade ice cream, gelato, or sorbet, look no further than Whynter's Ice cream Makers!
All Mom needs to do is add her favorite ingredients and let the magic of the Whynter appliance do the rest. Mom will love being able to fully customize her frozen treats to taste while appreciating the healthy all-natural yogurt or sorbet options too.
The Whynter Ice Cream Maker is incredibly easy to use, so she'll be whipping up batches of her favorite frozen desserts in no time at all. Don't miss out on this must-have kitchen appliance for Mom this Mother's Day, or no ice cream for you! Just imagine all the mouth-watering possibilities right on Mom's countertop!
SHOP:
Ice Cream Makers | Upright Automatic Ice Cream Maker
EXPLORE AND CONNECT:
Whynter | Facebook | Instagram | Twitter | Youtube
Is Mom creative? Then give her the gift of a Wacom One this Mother's Day so she can expand her digital artwork. The Wacom One makes it easy to sketch, draw, capture ideas, edit photos or videos, and annotate digitally with a simple natural pen experience. It works with Macs, PCs, Chromebook, and Android devices making it easier to add digital ink to notes, images, or artwork. When you are seeking gifts for moms who have everything, Wacom is sure to have a gadget or gizmo she is sure to love!
Whether she's just starting in digital creation, wants to add a twist to her visual thinking or she's looking to improve her digital expression, Wacom One is a great experience. It comes with all the essentials to spice up your digital life and these devices are the perfect gifts for Moms who have everything. There's the natural pen feel on the 13.3" screen, the included creative software – even the ability to connect to certain Android devices. And it's compatible with leading pen brands too.
If Mom is a teacher, she'll also appreciate that the Wacom One is compatible with Chromebook, so she can recreate the classroom experience directly with the pen on screen just as if she's using a real whiteboard.
Whether she's working remotely with students, taking notes, or working on her latest digital art piece, she can do it all naturally and comfortably with Wacom One.
SHOP:
Wacom One
EXPLORE AND CONNECT:
Wacom | Facebook | Instagram | Twitter | Youtube
Your skin is a reflection of you and your inner youth, Mommas. That's why the Geneo Personal is a way for you to trigger the natural process of oxygen from within your skin, which results in smoother, brighter skin. This two-in-one device works as an oxygenation treatment as well as a daily cleanser. By oxygenating your skin, Mom, you can improve skin tone and texture while giving your skin a glowing appearance – and no, it's not the oiliness! It's how the Geneo Personal provides exfoliation for the upper layer of skin to brighten up dull skin that needs a bit of love and care.
In case you are wondering, the Geneo Personal works on all skin types to provide a deeper cleanse while using the power of oxygen to replenish and renew Mom's skin. With the upper layer of skin exfoliated, now your skin can easily accept the nourishment of active ingredients in your normal skincare routine. These devices are great gifts for Moms who have everything!
Enjoy purified, refreshed, and renewed skin with your own TriPollar Geneo Personal, Mommas!
With this personal device, Mom, give yourself an oxygenation facial in the comfort of your own home.
SHOP:
Geneo Personal
EXPLORE AND CONNECT:
TriPollar | Facebook | Instagram | TikTok | Youtube
The Brabantia Nic Bread Box with Serving Lid in dark gray lets Mom dress up the kitchen by tidying up the counter. The sleek bread box stores bread loaves, muffins, and bagels while keeping them fresh. The ribbed pattern at the bottom provides excellent ventilation. The bamboo lid can be used as a beautiful serving tray.
The sturdy handle makes the bread box easy to move from the countertop to the pantry or to the table. The Brabantia Nic Bread Box with Serving Lid makes such a thoughtful gift. Be sure to pair it with Mom's favorite fresh bagels or muffins.
The Foldable Dish Rack lets Mom tuck it away when not in use keeping the countertop clear of clutter. The Foldable Dish Rack quickly unfolds and holds up to 13 plates to dry. The modern dish rack is made of plastic, silicone, and aluminum. The drip tray keeps counters dry. Itís so refreshing to have durable kitchen tools to make life more streamlined.
The Brabantia 3-Piece Window Canister Set is an elegant, functional solution to keep coffee, pasta, tea, cocoa, etcÖ fresh for longer. The 1.4-liter matte steel canisters are fingerprint-proof with a black lid. They have a flavor-seal click lid. They are the perfect size for everyday use. They look great in a kitchen with stainless steel appliances.
SHOP:
Nic Bread Box with Serving Lid | Foldable Dish Rack | 3-Piece Window Canisters
EXPLORE AND CONNECT:
Brabantia | Facebook | Instagram | Youtube | Pinterest
This Mother's Day, give your Mom the gift of a peaceful night's sleep with the temperature regulating JUVEA Pillow. This moisture-wicking pillow includes a cooling cover that will allow your Mommy dearest to keep cool through the night, giving her the rest she deserves. In addition, this eco-friendly pillow is water-resistant and ethically designed in the USA. The 100% natural JUVEA latex foam interior offers buoyant, airy support creating the perfect sleep environment. This Mother's Day, if you're looking for gifts for Moms who have everything, give Mom the gift of comfort and a good night's sleep with a JUVEA Pillow.
SHOP:
JUVEA Pillow With Cooling Cover
EXPLORE AND CONNECT:
JUVEA | Facebook | Instagram | Pinterest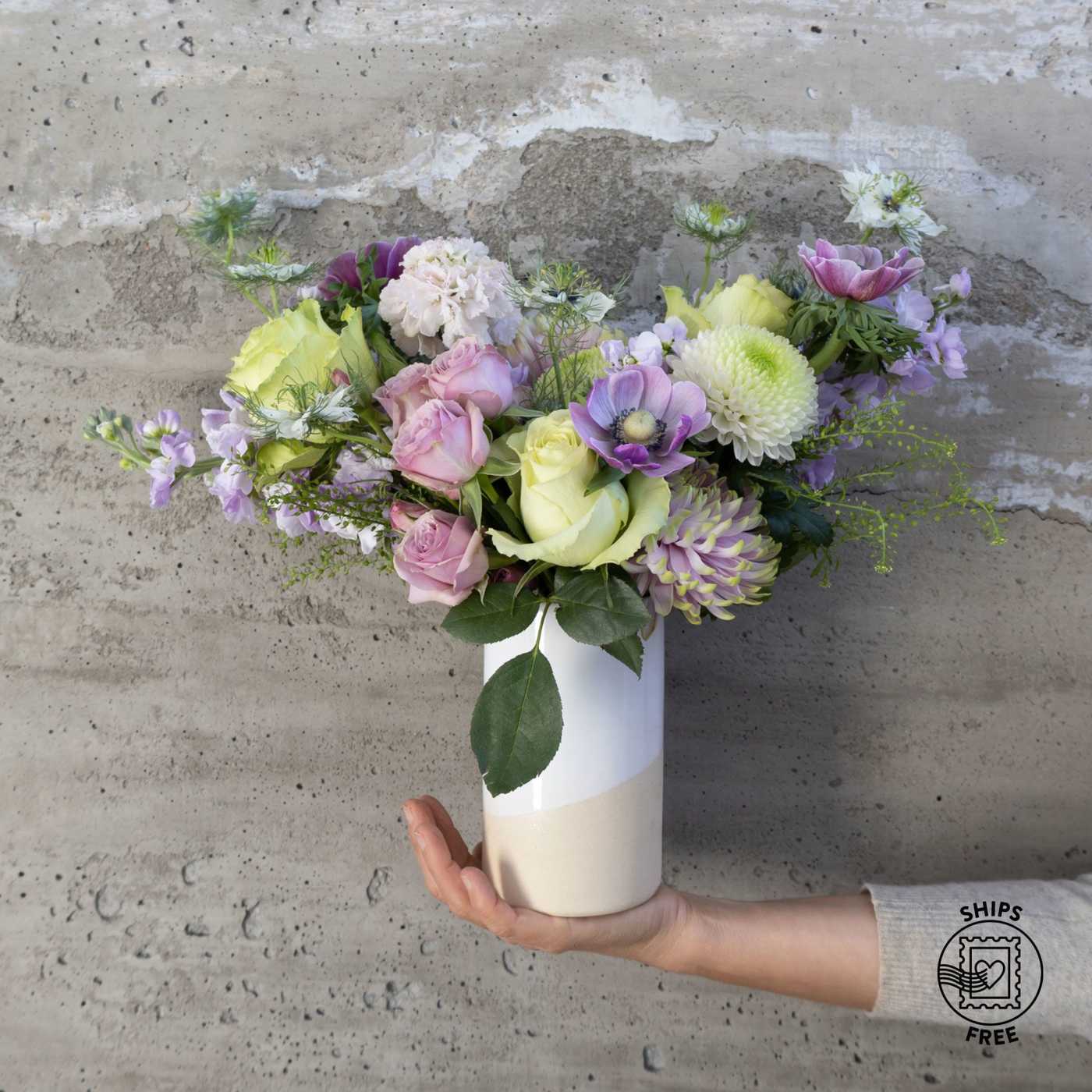 Make Mom's day extra special with a Pinterest-worthy bouquet from Farmgirl Flowers. The Down the Rabbit Hole bouquet is a moderately sized arrangement that will compliment her nightstand, her dining room table, or her favorite reading nook. Presented in a seasonal 360˚ vase, this pastel palette boasts twenty-eight pastel stems and bits of blooms that bring the sweetness of spring and summer into her own home. This vase, which stands only 6″ tall and 4″ across the mouth, boasts a hand-dipped glazed detail she will love to fill all-year long.
SHOP:
Down The Rabbit Hole
EXPLORE AND CONNECT:
Farmgirl Flowers | Facebook | Instagram | Twitter | Pinterest
Are you looking for gifts for Moms who have everything? Then give Mom the most beautiful wooden jigsaw puzzle ever! Each Mosaic Puzzle piece is hand-drawn in shapes like animals, people, and everyday objects. As Mom hunts for the next puzzle piece, she will smile over and over again as she picks up each unique piece. In the 500-piece Wizard of Oz puzzle, she will discover pieces shaped like Dorothy, the Tin Man, a flying monkey, as well as flowers, trees, wolves, and more. Each customer receives a unique cut design experience. You will not receive the same cut design twice.
Of course, the beautiful Mosaic Puzzles are printed in clear, vibrant colors with archive-grade inks to stand the test of time on high-quality wood. It's magical when the crisp, wooden pieces snap together in this unique puzzling experience. You can choose puzzles in 250-piece, 500-piece, or 1,000 pieces in designs ranging from Van Gogh's Starry Night, A Sunset in Santorini, Hot Air Balloons at Sunset, and many more. This is definitely the kind of puzzle art you will want to hang on your wall when finished. The puzzles are built and assembled in Atlanta, Georgia. It's a great way to spend quality time with Mom putting together your Mosaic Puzzle.
SHOP:
The Wizard of Oz – 500 pieces
EXPLORE AND CONNECT:
Mosaic Puzzles | Facebook
Surprise your Mom this Mother's Day with super comfy sheets and pillows from Gravity Blanket. Gravity Blanket is known for its luxurious weighted blankets, pillows, and bedsheets designed to give you a better night's sleep.
The 100% cotton brushed flannel sheets are just what mama needs to get the restful night's sleep she deserves. These wrinkle-resistant sheets have a deep pocket that fits mattresses 12 inches or higher, and the elastic corners will prevent the fitted sheet from coming off.
You can rest assured that Mom won't be tossing and turning this Mother's Day with the fully customizable Hybrid Pillow made of memory foam and cotton. This queen-sized pillow is the perfect Mother's Day gift, and you can customize the pillow's firmness as well. The premium bamboo cover will also keep Mom cool through the night. Gravity Blanket is the best way to give your Mom the ultimate gift of comfort this Mother's Day.
SHOP:
Gravity Flannel Sheets | Gravity Memory Foam & Cotton Hybrid Pillow
EXPLORE AND CONNECT:
Gravity Blanket | Facebook | Instagram | Twitter | Pinterest
Tell your Mom how much you love her this Mother's Day with personalized gifts from Sam + Zoey. From blankets, kitchen towels, and cutting boards, they have everything you need to make your Mom feel special. The beautiful Eternity Hidden Message Hooded Blanket is the perfect blanket to travel with or cuddle up on the couch and they make great gifts for Moms who have everything! It's made of 100% Minky polyester fleece and double edge stitching, making it durable and long-lasting. The beauty of this blanket is you can write a personalized letter to your Mom expressing your love and gratitude for all her hard work.
Another practical gift for your Mom is a personalized Cutting Board. All of the boards can be engraved with your surname or your Mom's name on one side so that it can be displayed. The other side can be used for chopping without damaging the engraved side. So this Mother's Day, let your Mom know how much you appreciate her with one-of-a-kind personalized gifts for Moms who have everything, courtesy of Sam + Zoey.
SHOP:
Hidden Message Hooded Blanket: Eternity | Cutting Board: Script
EXPLORE AND CONNECT:
Sam + Zoey | Facebook | Instagram
The best Mother's Day gifts for Moms who have everything are the ones that celebrate Mom's style and grace. The gorgeous vegan leather Carly Tote by Minkeeblue comes with a matching lunch bag with a velcro folding panel. This chic bag features gold accent hardware, blue twill lining, two outside pockets, an inside zipper pocket, and a padded inside pocket that can fit a 14" laptop. Mom will use this fashionable bag to organize all her essentials and look good while carrying it. The Carly Tote is a functional bag perfect for today's fashionista Moms.
SHOP:
Carly Tote With Lunch Bag
EXPLORE AND CONNECT:
Minkeeblue | Facebook | Instagram | Twitter | Youtube | Pinterest
Mother's day is right around the corner and it is time to pick the perfect gift for the green-thumb mom in your life. If the mother, sister, daughter, or special mom-friend in your life loves gardening, surprise her with something fun, easy, and organic to grow. Back To The Roots, Fabric Raised Garden Bed makes great gifts for Moms who have everything, and are short on space. It is three cubic feet of easy and delightful growing garden fun. This transportable garden can be set up indoors or outside, wherever Mom has room to grow.
The Fabric Raised Garden Bed is constructed from durable felt and is double-stitched for extra strength and long-lasting growth. This bed will last season after season providing the joy of gardening no matter the weather.
If the mother in your life loves a pinch of fresh greens on her sandwich or salad, gift her an Organic Microgreens Kit Bulk Saver 6-Pack. These organic micro greens are nature's best-kept secret, packed with vitamins and minerals as well as bursting with flavor. This kit contains a four-month supply of seeds to grow 3 varieties of greens, rainbow mixes, a mightly mix of greens, and broccoli. The Organic Microgreens Kit Bulk Saver 6-Pack is easy to grow and care for and is super fun to add to Mom's favorite dishes to liven them up with a pinch of freshness.
Let's not forget that a thriving, lush garden needs healthy soil. Back to the Roots Natural & Organic Seed Starting Soil Peat-Free is a ready-to-use soil-free mix of peat and teeming with natural and organic fertilizer. Mom will surely have her bountiful harvest with this premium soil.
SHOP:
Fabric Raised Garden Bed | Natural & Organic Seed Starting Soil Peat-Free | Organic Microgreens Kit Bulk Saver 6-Pack
EXPLORE AND CONNECT:
Back to the Roots | Facebook | Instagram | Twitter | Youtube | Pinterest
A durable and affordable duvet set that will instantly transform your bedding into the crisp look of a hotel room, with classic textures that update your bedding and your room. It's also free from harmful chemicals with a fabric that can breathe while keeping you warm or cool.
It has button closures, and internal ties to make sure your comforter stays put and is available in four different textured fabrics: Waffle, Linen Look Slub, Stripped Slub, and Geo Matelassé. These are great gifts for Moms who have everything! Designed to last for many years, this set is machine washable and perfect for all seasons!
SHOP:
100% Cotton 3 Piece Textured Duvet Cover & Sham Set
EXPLORE AND CONNECT:
California Design Den | Facebook | Instagram | Twitter | Youtube | Pinterest
Prosperity Candle is a social enterprise that supports refugees and artisans through candle-making and beautifully crafted vessels easily refilled or repurposed for a lifetime of enjoyment. All of the candles from Prosperity are amazing in their own way and make great gifts for Moms who have everything. The She Inspires Candle Set is an ideal gift for a mother or mother-figure for Mother's Day. Each inspirational candle is individually gift boxed and includes an empowering quote and a story card about the woman artisan who made it. The 4 candles in the set include:
Persist "Each time a woman stands up for herself, she stands up for all women." Maya Angelou
Fearless "One isn't born courageous, one becomes it." Marjane Satrapi
Fierce "She remembered who she was and the game changed." Lalah Delia
Queen "Think like a queen. A queen is not afraid to fail." Oprah Winfrey
The candles in the She Inspires Candle Set feature premium fragrances infused with essential oils such as citrus, bold oakmoss, and sweet vanilla. Made with natural soy and coconut waxes with a pure cotton wick, these candles are eco-friendly and even their vessel can be repurposed to continue to remind each Mother of their power, strength, and worth.
SHOP:
She Inspires Candle Set
EXPLORE AND CONNECT:
Prosperity Candle | Facebook | Instagram | Twitter | Youtube | Pinterest
This Mother's Day treat mom to a comfy, cozy crewneck that won't break the bank with the chenille Boymom Sweatshirt from LĒ·LĀ·LŌ. Tell the world just who she is and how special she is with this easy-to-wear cotton pullover with the cute boymom embroidered chenille appliqué. From weekend wear to sporty threads, throw this cute sweatshirt on this season with leggings, jeans, or cutoffs and kicks for a trendy look this summer.
SHOP:
Boy Mom Chenille Sweatshirt
EXPLORE AND CONNECT:
LĒ·LĀ·LŌ | Facebook | Instagram | Pinterest
The gorgeous trays from Addison Ross are functional and stylish gifts for Moms who have everything! The White Small Lacquered Tray is the perfect size for several uses including keeping loose items and trinkets organized in one place. The Lacquered White Tray is finished with 20 coats of high gloss lacquer and hand polished between each coat to produce a seamless, elegant tray. The simple, white color fits with any decor theme throughout any room in your house.
This tray is perfect as a small serving tray or as a perfect display tray for a bathroom, bedside table, kitchen, or desk. The base is lined with black velvet featuring a foil-blocked logo. This tray comes in a beautiful gift box and is also available in a light grey color.
SHOP:
White Small Lacquered Tray
EXPLORE AND CONNECT:
Addison Ross | Facebook | Instagram | Pinterest
Stylish and trendy dresses that are easy to wear make great Mother's Day gifts this year and Veronica M has a wide selection ladies will love. Cute and comfy, the Zoe Strech Tunic Dress is a classy piece that can be worn as a dress with wedges or even a bathing suit coverup with flip flops and a wide brim hat. Whether your mom is headed out for a weekend brunch or to the poolside tiki hut on this year's summer vacation, this v-neck, ruffle side dress features a stretch fit, tie waist, and oversized fit for comfort.
SHOP:
Zoe Strech Tunic Dress
EXPLORE AND CONNECT:
Veronica M | Facebook | Instagram | Pinterest
Surprise your Mom this Mother's Day with beautiful hand-printed towels and table runners from Ichcha. The organic Everyday Towels feature a mix of prints & colors that will look beautiful in the kitchen. These colorful towels come in a set of ten and are hand-dyed in natural dyes using a carved wooden block. Each towel is made from extra fabric leftover from regular-sized napkins.
Finally, dress up your Mom's table with a flower & leaf-inspired mustard yellow Yan Table Runner, made from organic cotton woven on a handloom. These stylish table runners and everyday towels will go with any decor and will make your Mother's Day brunch even more special and memorable.
SHOP:
Everyday Towels| Yan Table Runner
EXPLORE AND CONNECT:
Ichcha| Facebook | Instagram | Twitter | Pinterest
If your Mom loves to cook, there is no better gift than the five-piece Champions Frying Pan Set from Fusion Guard, created in partnership with the MasterChef TV series. This non-stick professional-grade cookware is the perfect gift for Mother's Day. The versatile set is suitable for induction, gas, electric, or halogen cooking and oven safe up to 400 F. These pans make great gifts for Moms who have everything! This cookware is infused with silver ions, giving it antimicrobial properties. Your Mom will be cooking up a storm in the kitchen, making her famous cheese omelet and delicious stir-fried noodles. So celebrate your Mom and everything she does for you with a luxury frying pan set from Fusion Guard.
SHOP:
5PC Champions Frying Pan Set
EXPLORE AND CONNECT:
Fusion Guard | Facebook | Instagram | Pinterest
With Mother's Day around the corner, what do you get your Mom, who loves to cook? The most practical gifts for Moms who have everything would definitely include the Elihome Cutting Boards. These stain-resistant cutting boards are designed in California and made in the USA. This non-slip board is made from safe, healthy, and sustainable high-density pine leaves. This material will absorb neither bacteria nor odors. The knife-friendly surface resists deep cuts and protects your knives. This dishwasher-safe board contains grooves that prevent flour and liquids from spilling onto the counter. Mom can continue creating delicious masterpieces in the kitchen using the Elihome Cutting Board.
SHOP:
14 x 19 x 3/8 Cutting Board
EXPLORE AND CONNECT:
Elihome | Instagram
Not everyone has room for a fire pit at home, but now with City Bonfires, you can enjoy making s'mores and memories with Mom. The City Bonfires S'mores Family Pack comes with two compact and portable mini-bonfires in a 4 x 2-inch tin, as well as two s'mores making kits complete with roasting sticks, chocolate, and graham crackers. These are the perfect all-in-one gifts for Moms who have everything.
City Bonfires are made with FDA food-grade soy wax making them safe to roast marshmallows. They boast a burn time of 3 to 5 hours. The little crackling fires add ambiance to a backyard bbq or Mother's Day picnic. City Bonfires are handmade in Maryland.
SHOP:
S'mores Family Pack |
EXPLORE AND CONNECT:
City Bonfires | Facebook | Instagram | Twitter | Youtube | Pinterest
If you are searching for gifts for Moms who have everything, then Fortessa is an excellent place to start. The Gigi Red Wine Glass offers both a unique look with the durability she prefers. This machine-made TritanTM Crystal glassware uses a formula that replaces lead with zirconium. What does this mean for Mom? Her wine glasses have an increased brilliance and strength that will keep her glasses shining for longer.
This unique hexagonal look unites art with utility, and while this glass can hold more than a typical 5 oz. pour, it sits comfortably in her hand and is certain to be her new favorite glass for practically every beverage!
SHOP:
Gigi Red Wine Glass 23.3 OZ
EXPLORE AND CONNECT:
Fortessa | Facebook | Instagram | Youtube | Pinterest
Gifts for Moms who have everything are never easy! But no Mom can ever have too many candles. If you want to give her candles that are simple, clean, and can transform your space through fragrance then the Bare Candle Co. is the way to go. These Candles are vegan-friendly and paraffin-free, made with 100% soy wax. Unique scents like Avocado + Mint, Mango + Papaya, and Morning Coffee are amazing choices for a Mother's Day bundle. And when the candle is burnt, this gift keeps on giving. Their gorgeous amber vessels have a removable eco-friendly label, leaving you with a reusable jar perfect for things like planting a cute succulent in. Each candle has a standard burn time of 45-50 hours.
SHOP:
Candles
EXPLORE AND CONNECT:
Bare Candle Co. | Facebook | Instagram | Pinterest
A Mom can never have enough cute and comfortable pajamas and this pajama set is perfect year-round. This is a 3-piece set in a fun leopard print, that is super soft and comfortable to wear. The long sleeve loungey v-neck shirt is the perfect semi-over-sized fit, paired with matching sporty boxer shorts. Don't forget to wear your eye mask for the perfect night's sleep!
SHOP:
Olivia Pajama Set In Bare Leopard
EXPLORE AND CONNECT:
Room Service | Facebook | Instagram
If your Mom likes to keep her kitchen organized, you should get her the Vision Knife Block from Kuhn Rikon for Mother's Day. Now, these are some gifts for Moms who have everything! This aesthetically appealing block allows you to see your knives and keep them safe. The knife block can store up to 18 knives safely, with the rubber feet keeping the block in place, and one of the best features is the flexible inlay that allows for the storage of multiple knives/shears of various sizes. This amazing Vision Knife Block will keep your Mom's kitchen organized and visually appealing!
SHOP:
Vision Knife Block
EXPLORE AND CONNECT:
Kuhn Rikon | Facebook | Instagram | Twitter | Youtube | Pinterest
One of the best gifts for Moms who have everything is a photo gift from VistaPrint. A family picture of all the kids or grandkids is priceless. With the fade-proof Custom Canvas Print, you can add a splash of color to the background or an inspirational quote and add a lightweight foam or premium wood frame. The canvas includes built-in hangers, a selection of five sizes, and two style options. Creating the perfect gift for Mother's Day that will be cherished for years to come is made easy with VistaPrint.
SHOP:
Custom Canvas Prints
EXPLORE AND CONNECT:
VistaPrint | Facebook | Instagram | Twitter | Pinterest
---
Now you can celebrate Mother's Day in style knowing you have a great list of gifts for Moms who have everything! Get ready to shower her with unique gifts from beauty products to creative photography and kitchen items. With such a wide variety of gift ideas to choose from, you can make this a Mother's Day that she will cherish forever.
💖 NEWSLETTER: DAILY READS IN YOUR INBOX 💖
Sign up to receive our picks for the best things to do, see and buy so you can relax and focus on more important tasks! Let us help you be the best version of yourself you can be!
GET MORE FROM DAILY MOM, PARENTS PORTAL

Newsletter: Daily Mom delivered to you
Facebook: @DailyMomOfficial
Instagram: @DailyMomOfficial | @DailyMomTravel
YouTube: @DailyMomVideos
Pinterest: @DailyMomOfficial
📌 LOVE IT? PIN IT!📌