Years ago, simple everyday makeup looks appeared quite different from today. After a long day of wearing heavy makeup, women slathered on cold cream and applied heavy lotions and balms to their faces and decolletage to prevent wrinkles and promote a more youthful glow. Fast-forward to today, and people who wear makeup may enjoy the occasional full face of products, but for many people, it's not achievable or even desirable.
Finding a way to achieve easy everyday makeup looks that won't take up more than 5 minutes in the morning is becoming popular. No longer is textured skin taboo, and even brows of every nature (prominent or scarce) are featured in magazines and online articles. Enjoying simple everyday makeup looks is easiest to do when your skin looks and feels its best, and for all of us to understand that what looks and feels best on one person may not be the same for the next.
If I had a dollar for every time I begrudgingly drank another 8 ounces of water for the sake of my skin's appearance, I'd have several dollars. The truth is that your skin needs to be balanced from the inside out in order to achieve that healthy glow that all of these filters try to sell us. Human skin isn't Instagram skin and that's exactly why it's so beautiful. The skin has texture and imperfections, and while social media and society may try to convince us that this is a bad thing, the fact that we're alive and breathing reminds us that it's natural, it's normal, and it's absolutely beautiful.
Keep reading to see how you can achieve simple everyday makeup by focusing on 5 areas of the face. By focusing on one of these areas, you can pick and choose what to feature from day-to-day, either choosing one or all, for a simple everyday makeup look that will leave you glowing and completely in love with the unfiltered you.
What Do You Want Your Everyday Makeup Looks To Say About You?
Do you seek out natural beauty? Do you want brighter eyes or fuller lips? Do you want to get creative and express yourself? How much time do you want to spend on your makeup? Before deciding to try simple everyday makeup looks, these are questions that need to be answered by you.
First, this article assumes that your skincare routine is already underway. If not, there are excellent resources (here and here) that have great information to help you choose products that will serve you and your lifestyle. Next, this writer is hopeful that your skincare routine includes an SPF that will sit on the skin and under your makeup to protect your health and the look and feel of your skin. If not, then let's continue to the next section.
Everyday Makeup Looks: Skin
If you aren't using an SPF on your face, it's not too late to start. There are excellent dermatologist-recommended SPF moisturizers (like this one) that aren't oily, are non-comedogenic, and are hypoallergenic available at your local drug or department store.
If you don't feel like you have time to do an SPF and makeup, then there are "cheat codes." Find a tinted, moisturizing SPF (like this one), and be sure to apply it from the top of your forehead down to your chest. Not only are you protecting your beautiful skin, but you're also moisturizing and giving it that just-came-from-the-beach sexy glow.
For a full-coverage look: Start by finding a foundation that specifically states that it is full-coverage. Using clean hands, use your finger to dot it all over your face. Use a dampened beauty blender or a kabuki brush to blend it out gently. If you don't have a kabuki brush or a beauty blender, then use your fingers! They're the original beauty tool and work just fine for simple, everyday makeup looks.

Great foundation options for full-coverage should feel moisturizing and should not be perfumed.

Perfume=Alcohol=drying out your skin. Try products like this one or this one. Remember, we love an SPF!

For a dewy, fresh look: Instead of finding a foundation, look for a face and body foundation, or try looking for a BB Cream. This will feel different on your skin than a full-coverage foundation, and that's okay. Since it feels different, it may apply differently, too. If you feel that you're getting smudges or streaks on your skin, try using a different tool for the application. Or, you may be using too much product. Through a bit of practice and trial and error, you'll find the blend you're looking for.

For Highlights/Contour: If you're over 35 or your skin has more texture, go with the cream or liquid blush/highlighter/contour. It sits naturally on the skin and can be done in just a few seconds. If you don't have a lot of texture and you can be out the door with a powder blush, then find what works for you and run with it.
The Eyes Have It
The eyes are the windows to the soul, and for many, they claim the top spot for favorite physical attributes. Help them gain the attention they deserve with a few ideas for everyday makeup looks that won't eat up too much of your time.
For a bold look, always start with an eye primer. This one is a great, affordable drugstore choice, and this one, too. Find a bright color that complements your skin (and your attitude) and have fun. Remember: Wherever you plop your brush first will have the most pigment. Make sure you're sure!

Using a small brush, apply this shadow carefully around your eye (get as close to the lashes as you would like and move your way outward). If your color is transferring and quickly becoming a new shade of blush, hold a tissue under your eye during the application. Using a fluffy brush, blend your color outward until you reach your desired look.
A less bold look, but still filled with possibility and personality, is another option for all-over color. Eyeshadow sticks/chubby pencils are fantastic choices for this look, and these are highly pigmented and affordable options.
The great thing about focusing on the eyes for a bold, fun look is that by keeping some makeup remover and a q-tip (or clean shadow brush) nearby, you can clean up your lines and achieve the look you desire.
Finally, a clean face, gorgeous structure, and piercing glances often enough can speak for themselves. A mascara against bright eyes is sometimes all you need. Brighten up your look by adding a dash of highlighter on your inner corners and on your brow bone (just under your eyebrow) for a subtle touch of elegance.
If you're feeling playful or just want to stand out in a simple way, find a colorful mascara that will have everyone taking a second glance!
Contour
Contouring doesn't mean you're going to walk out of the bathroom looking like the newest Kardashian (unless that's your vibe, then by all means continue). Contouring means featuring your gorgeous bone structure using the magic of makeup.
Finding a shade (powder, cream, liquid…it's up to you and your preference for your face and skin type) just two shades deeper than your foundation can make a big difference in the way your face plays with the light.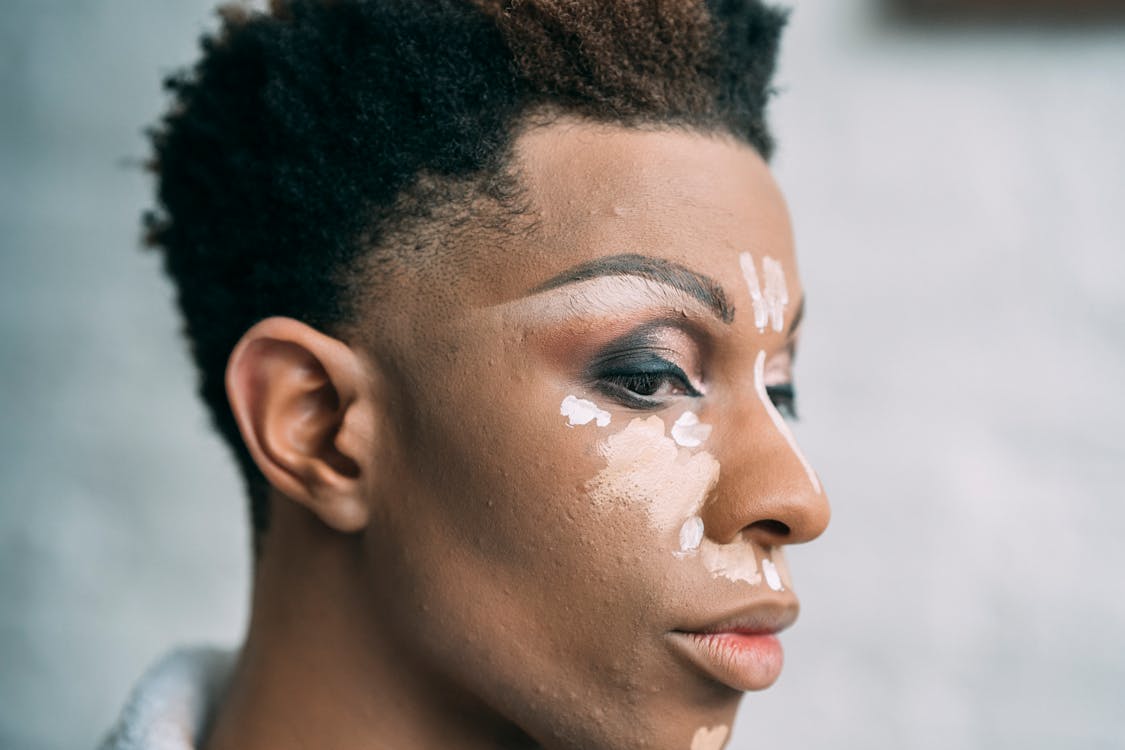 Using a small beauty blender or a narrow brush, apply contour to the shadows of your face and then blend. Remember that, unlike TikTok and YouTube videos, contouring and blending takes time, even when it comes to everyday makeup looks.
Alternatively, using a pigment a tad lighter can accentuate the areas of the face that the light touches. While the photos show vivid contrast for stage makeup, everyday makeup looks don't require such a stark contrast between shades. Makeup should be a fun tool to achieve the look you desire-it's time to have fun!
Lovely Lips
Wearing masks for the past two years has done a number on the people who love a bold lip, leaving our masks a mess and our faces a bit, well, Arthur Fleck. For those who have embraced the masks and adapted their lipstyles, hats off to you. A natural lip is always an excellent choice, especially when considering options for everyday makeup looks.
Choosing a nourishing gloss or balm, especially during harsh weather, keeps the delicate skin looking and feeling plump and soft. Whether you go for a natural look or a tinted balm, happy lips are beautiful lips and you can't go wrong.
For those of us who are hanging on to a bold lip until our dying breath, a great way to wear everyday makeup looks for bold lips starts with liner. Finding a longwear liner that won't end up in a cakey mess at the end of the day needs to be nourishing, moisturizing, and pigmented. This is a great drugstore option, and this is my ride-or-die.
After carefully applying your lip liner, fill it in with the same liner. Then, go over it with a complementary shade. Your lipstick will last all day, even while wearing a mask!
Eyebrows
Eyebrows have had a rough go of it. From ancient civilizations shaping and raising them to the medieval era of men and women plucking them out, and even in the 1990s lining them up in a singular row and thinking we were pulling something off, women and men have used their eyebrows in order to achieve a "look" or status.
The eyebrows are a natural and beautiful part of the human face and they are the sills to your soul's windows. Love your eyebrows and respect them for the work that they do! There are so many options when it comes to styling your brows for everyday makeup looks that range from simple solutions to permanent and costly ones, including:
Regardless of the way you choose to style your brows, it's important to shape them with a brush at the end of your makeup routine. This removes any extra powders and gives your face a fine and polished look.
---
Makeup is fun and a great tool for self-expression. Finding simple, everyday makeup looks that serve your lifestyle can feel liberating and empowering while harnessing your creativity. Make 2022 the year of "you" and enjoy the beauty that you bring to your daily living.
WANT TO READ MORE?
Check out 5 Furniture & Decor Options for Your Kid's Bedroom for more decorating tips and tricks!
CONNECT WITH DAILY MOM
💖 NEWSLETTER: DAILY READS IN YOUR INBOX 💖
Sign up to receive our picks for the best things to do, see and buy so you can relax and focus on more important tasks! Let us help you be the best version of yourself you can be!
BE SOCIAL WITH US
📌 LOVE IT? PIN IT!📌
Photo Credits: Pexels
CONNECT WITH DAILY MOM
💖 NEWSLETTER: DAILY READS IN YOUR INBOX 💖
Sign up to receive our picks for the best things to do, see and buy so you can relax and focus on more important tasks! Let us help you be the best version of yourself you can be!
BE SOCIAL WITH US
📌 LOVE IT? PIN IT!📌