Louis Vuitton is a long-established luxury brand synonymous with high-quality products, ranging from purses to shawls and clothing, as well as jewelry and fragrances. Watch her eyes light up when she sees any of these classic, yet unique, pieces from Louis Vuitton.
This gift collection can be suitable for birthdays, anniversaries, holidays, or just to let her know that you appreciate all she does! Get ready to explore some of the highest quality luxury items in the world, all listed below and available at your fingertips.
This luxurious nude pink Let's Go Monogram Shawl by Louis Vuitton for women has an eye-catching design. It features a vibrant illustration of the House's trunks in different sizes and shapes, each showcasing the iconic monogram pattern. This animated piece has a fringe finish and is a must-have for every travel loving fashionista. The shawl is available in 12 colors.
The LV Volt Upside Down Bracelet, in 18-karat yellow gold, is part of the Louis Vuitton for women Volt collection. Contrasting with the bracelet's polished curves, the graphic L and V interact with one up, one down, to generate uniqueness. This piece can be worn alone or combined with other iconic LV pieces.
The yellow gold LV Volt Large Pendant belongs to the Louis Vuitton for women Volt collection, which accentuates the LV initials. This gorgeous pendant hangs from an adjustable chain and features a small V, set with a brilliant diamond, integrated within a larger L. Pieces from this magnificent line can be mixed and remixed to create a unique, personal, stand-alone style.
These Charlotte Sunglasses embody feminine style. They're also supremely practical, thanks to an innovative hinge system that means they can be easily folded flat and carried in a bag or clutch. They feature acetate and iconic monogram canvas on the temples and engraved LV initials on the lens. These are perfect for the beach.
This delightful Rose Des Vent Louis Vuitton for women fragrance is the traveler's faithful companion. Master Perfumer Jacques Cavallier Belletrud transports you to the middle of a field of roses! This fragrance comprises sensuous ingredients such as centifolia rose absolute, Turkish rose essence, Bulgarian rose essence, Virginia cedar, and Italian iris.
This stylish Mini belt by Louis Vuitton for women features an iconic monogram canvas, slender shiny gold metal buckle, and nubuck leather lining. The feminine belt is worn with jeans or over a black dress.
This beautiful Twist MM handbag has a nautical chain outlining the flap. Crafted from black Epi leather, the bags get designed with the iconic gold color LV Twist lock, microfiber lining, and a removable leather strap for shoulder or cross-body wear. This exquisite bag is spacious, with a large inside pocket that has a removable mirror.
This colorful LV Crafty Vivienne Head bag charm and key holder is a beautiful mix of cream, red and black. This charm has a monogram canvas with a rich geometric pattern and gold hardware. The Monogram flower key holder has a polished snap hook which is engraved with a Louis Vuitton signature and can be attached to a bag handle or keys.
This Capucines Compact Wallet gets crafted from luxurious crocodilian leather, which is polished to a lustrous finish. The signature LV press-stud closure is accented with crocodilian leather. This exquisite fold-over wallet is small enough to slip into a mini bag or clutch, is functional, and provides ample space for cards, coins, and bills.
This black satin Madeleine Flat Ballerina has a feminine slingback. This sophisticated style is embellished with an oversized LV Circle accessory, which gets embellished by hand with sparkling Swarovski crystals and a leather outsole. The strap at the back can be adjusted by a tiny silver-tone buckle.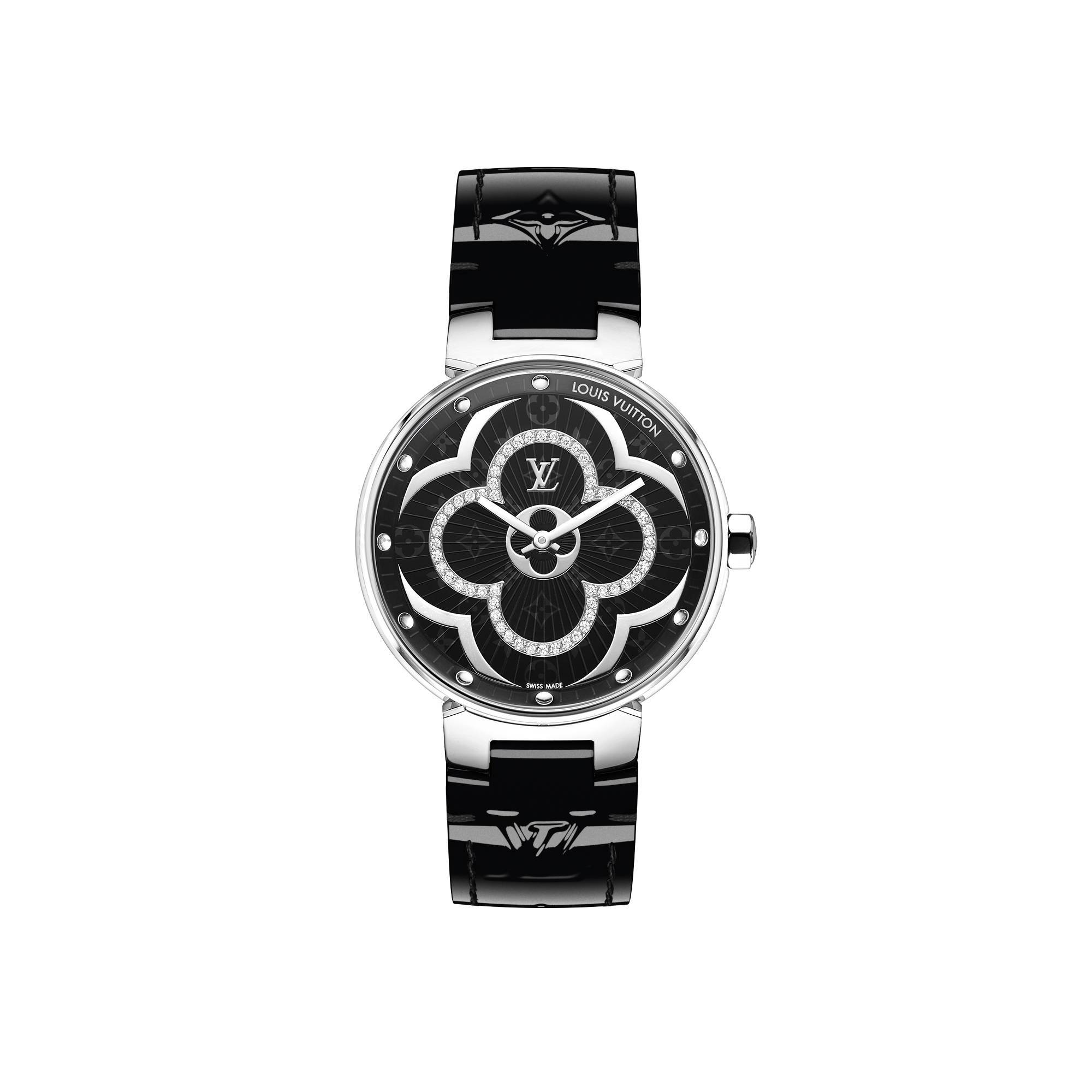 The glamorous and elegant Tambour Moon Divine watch collection by Louis Vuitton for women features a sophisticated reinterpretation of the monogram flowers paved with diamonds. The stainless steel case displays a unique inward curve, giving the watch a crescent-shaped profile. This 35mm model in black lacquer and diamonds offers a dressy, feminine, and joyful look for refined women. Wear the water-resistant watch with an interchangeable strap equipped with the Louis Vuitton patented strap system. Black Alligator or Monogram Vernis straps are an ideal match with the dial design.
This soft and luxurious Collarless Red Wool Wrap Coat is an iconic fall essential that combines warmth, lightness, and suppleness, thanks to a unique double-face technique. This feminine belted, wrap coat in a red wool-silk blend is chic and has a plum-colored giant monogram jacquard interior. This elegant piece is great for walks around Times Square.
This leather pastel Louis Vuitton for women Escale Elizabeth pencil pouch features a pattern of bleeding colors and is inspired by a Japanese fabric-dyeing technique called shibori. It brings a luminous, watery effect to the canvas that evokes the hippie and surfer aesthetics of the 1960s and '70s. The Monogram pattern and an LV Circle zipper create a fresh design in iconic House style.
The black iPhone 11 Folio is crafted from supple Empreinte leather, embossed with Louis Vuitton's signature monogram pattern and grained cowhide leather lining. This essential everyday companion has a slim-line design that not only holds the phone securely with its functional adhesive surface, but also offers a convenient inside pocket with three card slots.
The 3D Monogram hat is designed to catch the eye, with its monogram motifs. The strikingly modern 100% wool hat has a textured effect that is created using a knit technique. Whether styled as a beanie or a turban, this winter accessory will help keep you warm.
This black 100% pure leather headband has a silk lining and an all-over monogram canvas trim. Louis Vuitton for women unveils this distinctive easy to style, yet elegant, leather headband, which has a hot-stamped LV Circle signature on the side.
These black 100% lambskin leather LV Midnight Gloves are designed to complement the ready-to-wear collection. These gloves keep you warm and looking stylish. The LV Midnight logo appears on the soft lambskin leather, and the silver-tone stud adorns each knuckle.
This ultra-chic Card Holder Recto Verso by Louis Vuitton for women crafted in monogram Empreinte leather has a functional design. This multifunctional cardholder features cowhide leather lining, gold color hardware, press stud closure, and a chain with a hook. Among its practical features is a compartment with an L-shaped zipper, which can hold coins, and in-between pocket for folded bills, an envelope-style front pocket, and three card slots. This cardholder can be hooked onto a bag or belt.
This Pochette Voyage is a chic pouch, which can be hand-carried or slipped inside a bag. The pouch features deep-dyed Taiga leather signed with silver-color metallic LV initials, and has space for a tablet, documents, and other personal belongings.
With its iconic shape, this long-sleeved skater dress is all about classic chic. It is crafted from double-stretch wool, with a fabric belt yoke to show off the waistline and a V-shaped yoke on the front. Gold zip at the back and gold monogram flower details around the neckline add glittering notes of contrast. This dress will turn heads at any party!
This beautiful luggage piece from Louis Vuitton for women is the future of luxury travel. This rolling luggage is lightweight and has four comfortable wheels. It has a flat interior, thanks to its large external cane and a discreet TSA lock. It also has a mesh lining, cowhide leather trim, and removable leather nametag. Travel in style with your Horizon 55, which offers surprisingly large interior capacity for a cabin-friendly bag.
The epi cowhide leather in the bright-pink fuchsia cosmetic case is a superb travel accessory. It features a coated canvas lining, silver-color hardware, washable lining, and zip closure. This elegant Toiletry Pouch is large enough to carry all of your toiletry needs without spilling.
This standout 100% cotton Midnight T-shirt is casual and chic. It has a unique design with velvety flocked lettering and a laminated LV Circle logo in a tribute to Art Deco style. The contrasting ribbing at the collar adds a sporty feel. This is Louis Vuitton for women at its best!
The Île Blanche Perfumed Candle is sure to make her day, as its scent transports her away to a sunny island destination. With notes of Fresh tea, Jasmine Sambac, Orange, Citronnella, Verbena, Neroli and Cardamom, this perfumed candle provides 55 hours of pure fragrance bliss.
This generously sized towel in Louis Vuitton's iconic monogram pattern comes in velvet-soft, jacquard-weave cotton, for style and luxury on the beach. This towel is great for your best Caribbean vacation.
---
These Louis Vuitton for women luxurious gift ideas will be winners for any lady in your life! With their world-renowned quality and award-winning designs, Louis Vuitton branded merchandise makes the best gifts for any occasion. No matter which item you choose, rest assured that these will be gifts she will always cherish.
WANT TO READ MORE?
Check out this article on 25 Luxury Women's Watches For Modern Day Life
💖 NEWSLETTER: DAILY READS IN YOUR INBOX 💖
Sign up to receive our picks for the best things to do, see and buy so you can relax and focus on more important tasks! Let us help you be the best version of yourself you can be!
GET MORE FROM DAILY MOM, PARENTS PORTAL

Newsletter: Sign up for updates
Facebook: @BestProductsClubOfficial
Instagram:@BestProductsClub
📌 LOVE IT? PIN IT!📌