Between juggling family responsibilities, work and everything else life throws at us, it can be hard to schedule that much-needed workout! There is no debate that we all need to keep ourselves physically active, but it's still difficult to find the time. Now there are a growing number of high-tech home gym equipment options that allow for both a social interaction, as well as a great workout, all from the comfort of your home. With these new options, you no longer have to waste your valuable time commuting to the gym and still get a great, fulfilling workout experience.
Our Top Home Gym Equipment Picks
The Peloton Bike+ is the most addictive home gym equipment that will whip you into shape. This bike will provide the ultimate cardio and strength experience. It offers an affordable membership that has thousands of classes to choose from. This membership has new live and on-demand classes that stream directly to your 24″ HD touchscreen and offers individual profiles for the whole family.
The Mirror is home gym equipment done right. Its nearly invisible design can be mounted on the wall or standing against a wall. This innovative home gym equipment offers certified trainers from the country's top fitness studios. The Mirror features live classes, personal training sessions and pre-recorded classes. The company was acquired by Lululemon, which brings powerful brand recognition to this high tech home gym equipment. This device is convenient and easy to use anytime from the comfort of your home.
The Apple Watch Series 6 is a new device you can use with world class workouts by top trainers. The new Apple Watch is equipped with sensors that can track your workout, providing heart rate, ECG, calorie count and blood oxygenation data. The Apple Fitness+ subscription makes it easy for everyone to get the best workout on iPhone, iPad and Apple TV and couples seamlessly with the Apple Watch.
This is the newest evolution of jump ropes. This SmartRope has sophisticated magnetic sensors in the handle, which accurately count each jump and transmit data to your phone via Bluetooth technology. This accessible home gym equipment is soft, light, durable and easily adjustable to fit almost everyone. The ergonomically designed rope is convenient and easy to use to get a quick but impactful workout. Set goals for yourself and count your calories with this device.
This bike by Bowflex is a great addition to your home gym equipment. Its incredibly smooth, quiet design comes with three-pound weights and has bluetooth connectivity. This brilliant bike connects with three apps: Peloton, Zwift and Explore The World for a more enjoyable experience.
This smart home gym equipment by Tonal uses science and technology to help you reach your fitness goals. The all-in-one machine features digital weights that range from one to 200 pounds, adjustable arms that enable you to get a full body workout and also provides a form feedback so no injury occurs. This home gym equipment learns from your body and tracks your progress in real time. On-demand videos are also available with a monthly membership.
The Tempo Studio has a three-square-foot footprint and a 42-inch HD touchscreen. This home gym equipment comes with dumbbells, heart rate monitor, workout mat and a recovery phase to provide the ultimate workout. The large screen will motivate you to get off the couch and join the live or on-demand classes with a monthly membership.
Running meets strength training with the Peloton treadmills that have adjustable speed and incline knobs. Total body classes, elite instructors, and a complete connected experience from your home are available. With a giant 32-inch HD touchscreen and 20W built in sound bar, you will be fully immersed in the connected experience with the "all-access" membership.
The Hydrow is patented home gym equipment that has a drag mechanism that is electromagnetic and computer controlled. The Hydrow offers a ten-roller system seat that is designed to feel extra cushioned, so you feel comfortable throughout the workout. It also makes users feel like they are actually on the water. The wheel system makes moving it around the home easy, and it can tilt into an upright position for easy storage.
The KettlebellConnect 2.0 is a unique six-in-one, digital, adjustable kettlebell, ranging from 12-42 pounds. This home gym equipment is armed with real-time performance tracking and reporting. This Kettlebell can be synced to the JAXJOX app and you can join a live or on-demand workout. The app gives users access to real-time trainers and classes.
The FightCamp Personal is a game changer in home gym equipment. It offers a free standing bag, premium boxing gloves, a heavy workout mat, quick wraps and punch trackers. This amazing high-tech piece of home gym equipment tracks realtime punch speed and displays the information during the session. The FightCamp also offers a workout punch goal setting, post-workout summaries and performance assessments. If you have a competitive drive, you can also set up a comparison or leaderboard between users in the nationwide FightCamp online community, or against your own levels of achievement.
This rower is a motivational piece of home gym equipment that offers a powerful, connected workout from the comfort of your own home. The machine frame is made from replenishable, USA-sourced cherry wood. The rower has a collapsable arm, 17.3" touchscreen tablet and waterfly wheel technology with smooth resistance settings and silent usage. An online Ergatta membership is sold separately and allows for an interactive experience. With the membership, you can do rowing races with other users and also individual workout programs.
The home gym equipment experience is being redefined by this connected bike. Online fitness classes are combined with world class instructors, creating a live workout studio right in your own home. Live daily classes are available as well as on demand videos. You can ride your bike live with the Echelon community and inspire each other to climb the virtual leaderboard.
The highest level of interactive training comes to your home in the form of the NordicTrack X22i. This has a 22-inch, interactive HD touchscreen with on-demand studio workouts. World class personal trainers will control your treadmill remotely, adjusting the incline, decline and speed in real time as you follow their exercise regimen. You can explore global locations on your touchscreen, so you can feel like you are running on the beach, all from the comfort of your home! This home gym equipment can track your heart rate, elevation and intensity with a great summary at the end of your workout session.
This beautifully styled home gym equipment has a zero footprint, perfect for smaller spaces. The Reflect delivers a multitude of motivating training methods. The specially made bracket secures the touchscreen against the wall. This gym device brings your very own personal trainer into your home for high energy cardio, strength, pilates and boxing workouts on demand. With its connected design, you can experience world class instructors in your home for live sessions and they also offer classes on meditation. A membership fee does apply to these services.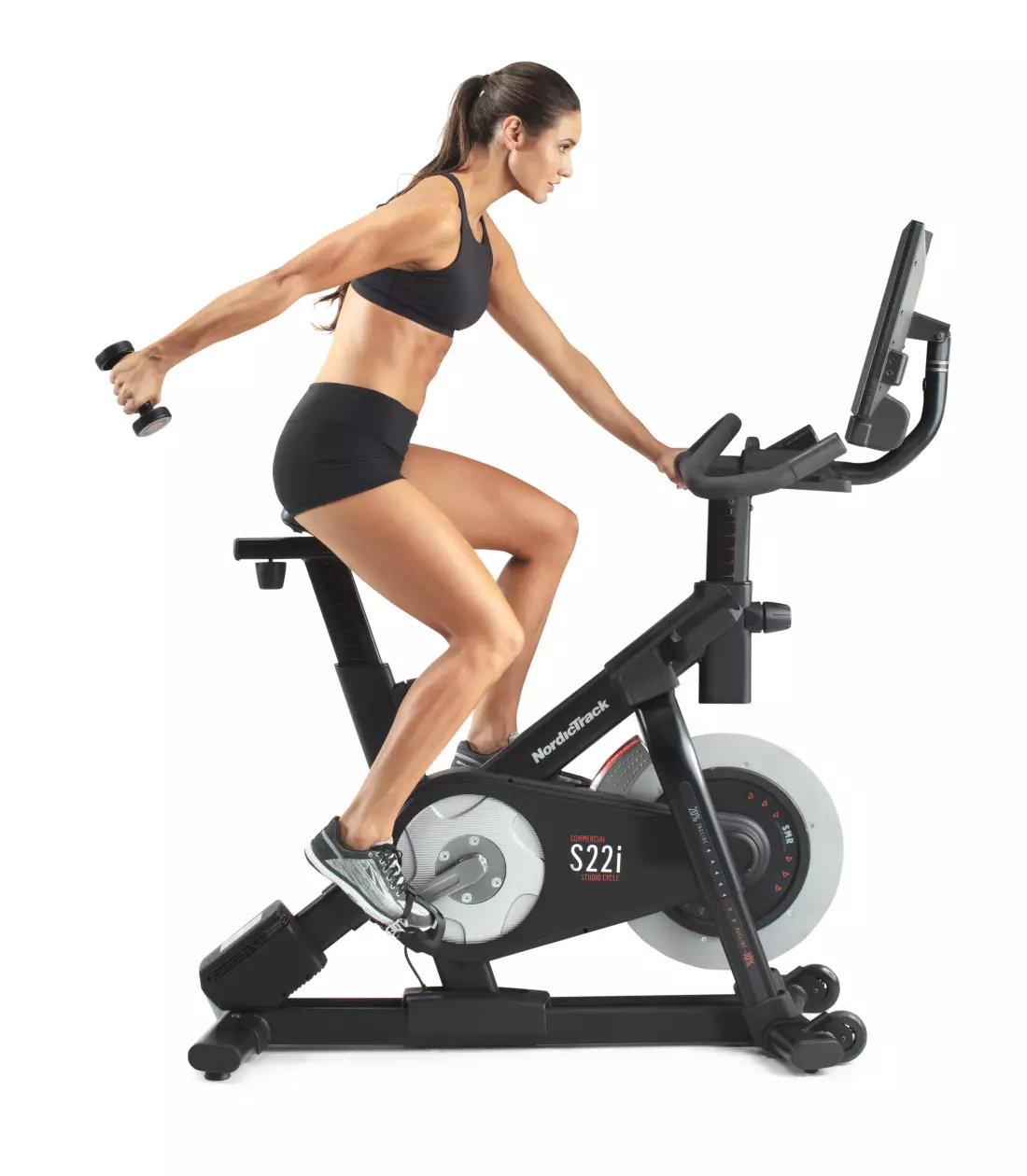 The NordicTrack cycle is revolutionizing the home cycling experience. This home gym equipment offers a 22-inch Smart HD touchscreen, 24 preset workouts, iFit coach ready, two three-pound dumbbells and a free one-year subscription to iFit. This bike easily moves from room to room with front mounted transport wheels.
Pivot Yoga is a brilliant, unique piece of technology in the form of clothing! This home gym equipment comes in the form of pants and shirt combination that tracks your movement in real time and connects to your phone via the Pivot mobile app. Once you choose your class online, the live instructor leads you through a sequence where your avatar in the accompanying app moves, mimicking your motions. The avatar moves as you move, allowing the instructor to know if you are doing the appropriate yoga movements during the session. The tech-connected shirt and pants need to be charged about once a week for this unique experience.
The CAR.O.L stationary bike is proven to deliver superior cardiovascular health and fitness benefits in just 26 minutes per week. The CAR.O.L features clear user guidance making exercises simple to perform, frictionless, motorized, with computer controlled magnetic brakes and integrated hand heart rate monitor. The bike has built-in safety algorithms and meaningful metrics to help you achieve results in about eight weeks.
The MAXPRO Smartconnect are Bluetooth-connected weights that have on-board sensors. This simple, yet unique, product provides a strong impactful workout. When using the MAXPRO, it provides a concentric biased resistance (CBR) profile, which will work out the muscle primarily in the contraction state only. The MAXPRO app will track your workouts, monitor your progress, provide data and the coaches will help you to reach your fitness goals.
The Nexersys Elite has multi-axis strike pads, an 18.5-inch HD tablet that delivers 3D graphics in real time. This home gym equipment has cloud-based N3 software that provides dynamic video and animated training and connects users around the world. It also has a height-adjustable and industrial-grade steel frame that provides low-impact resistance.
The NordicTrack Rower is the perfect investment for a home gym. The RW900 rower vertically folds for easy storage, with a 22-inch, smart, HD touchscreen, plus an adjustable console, 26 resistance levels, manual air resistance and quick adjustable pedals. This NordicTrack rower comes with a one-year subscription to iFit, which is an interactive personal training program from home. The iFit personal trainers will lead the way and automatically adjust your speed or resistance on your machine to provide maximum results. You can stream unlimited trainer-led workouts.
The Schwinn IC8 bike is indoor cycling at its best. This bike features a full-color backlit LCD display, media rack, USB charging station, smooth magnetic resistance and Bluetooth heart rate tracking. This home gym equipment connects to apps like Explore The World, Zwift and more for an extra fee.
The MYX system is a complete home gym. The MYX comes with a commercial-grade bike, sweatproof 21.5-inch touchscreen and polar OH1 heart rate monitor. The home gym offers a separate MYX membership for an additional fee that provides world class personal trainers and hundreds of total body workouts, with new sessions added weekly.
This state-of-the-art home gym equipment is designed to deliver an unrivaled fitness experience. This machine provides a full-body, low-impact workout that burns up to 60 percent more calories than cycling, rowing and running. The CLMBR is constructed from a cast and extruded aluminum, making it strong and lightweight. It's the world's first vertical climber with on-demand classes and integrated large format display. They also have instructor-led groups.
The amazing CrossXbody Trainer Pro is an intense cardiovascular workout. This unique home gym equipment features adjustable height and tension shock cords, and an 8-inch double end bag with a three-axis strike sensor that connects to your phone or tablet via Bluetooth. The Trainer Pro also has a 36-liter ballast stability system with non-slip rubber footing. It comes with a Crossbody Trainer App that will teach proper form and challenge you by changing the workout while you train. The app allows users to share their workout results through Facebook and Twitter.
---
With the rising popularity of high-tech connected home gym equipment, one can expect this segment to only show continued growth in the years to come. The options continue to grow and the products are also becoming more enticing, offering not only a good workout, but a great social interaction at the same time! The brand leaders in this area are all included in the list above, so feel confident in your choice of any of the above home gym equipment.
WANT TO READ MORE?
Check out this article on The Best Tasting Energy Bars And Protein Shakes For Weight Loss
💖 NEWSLETTER: DAILY READS IN YOUR INBOX 💖
Sign up to receive our picks for the best things to do, see and buy so you can relax and focus on more important tasks! Let us help you be the best version of yourself you can be!
GET MORE FROM DAILY MOM, PARENTS PORTAL

Newsletter: Sign up for updates
Facebook: @BestProductsClubOfficial
Instagram:@BestProductsClub
📌 LOVE IT? PIN IT!📌