The summer sun is shining and the days are getting longer—it's officially time to start enjoying all the season has to offer! If you're like us, that also includes taking some time for yourself to relax and recharge and focus on your most valuable asset – you. To help you get started, we've put together a list of our favorite selfcare checklist essentials for the summer months. From skincare to hair care, these are products that we cannot live without during the summer months. So whether you're looking to treat yourself or just want some self-care plan examples for your beauty routine, read on for 19 must-have items!
Selfcare Checklist for Your Beauty Regimen
When it comes to curating your own beauty self-care checklist or a self-care checklist for students coming home from college, think about your face-care goals, body-care preferences, and mindset. All three are intricately connected and provide a well-rounded self-care routine that makes you feel amazing from head to toe – so let's start with your face-care goals!
Step into luxury with the Baikal Crystal Face Infusion. This deeply rejuvenating and hydrating treatment contains collagen regenerating extracts and micro-crystals (spicules) of the Lubomirskia sponge from Lake Baikal. It revitalizes your skin with hyaluronic acid and a powerful cocktail of natural peptides and vitamins. Lubomirskia micro-crystals penetrate the skin, creating micro-channels, which stimulate active skin repair process and protein regeneration while delivering skin-firming micronutrients into live skin cells. Your skin will feel softer, smoother, and more youthful with regular use of this luxurious face infusion.
Looking for a natural way to restore your skin's hydration and radiance (who isn't, right?)? Check out Baikal Crystal Balm, made with Lubomirskia freshwater sponge sourced from Russia's Lake Baikal. This centuries-old remedy has been used to treat inflamed, damaged, and bruised skin, and can help regulate the secretion of sebum, increase fibroblast regeneration, and improve overall skin appearance and resiliency. The balm also features liposome-encapsulated extracts of Lubomirskia for added firming and restoring power. The result is a truly remarkable product for your selfcare checklist that will leave your skin feeling soft, smooth, and healthy. Trust us, your skin and reflection will thank you for this age-defying balm.
The Baikal Crystal Lip Infusion is perfect for anyone seeking an indulgent and effective way to achieve the most beautiful lips possible. With regular use, you'll enjoy firmer, smoother, and more kissable lips that will make you feel confident and gorgeous. So don't wait any longer to pucker up those sultry lips of yours!
Bring the spa to your home with the Baikal Crystal Eye Infusion and complete your selfcare checklist when it comes to using Baikal Crystal products. This deeply hydrating and brightening eye area infusion contains collagen-stimulating micro-crystals (spicules) and other anti-aging micronutrients. These unique micro-crystals penetrate the skin, creating micro-channels that stimulate active skin regeneration. These crystals deliver nourishing and firming natural nutrients deep into the skin.
All complexions, especially dry, thin, and aging skin will benefit from this product. This formula offers a non-invasive organic alternative to micro-needling treatment.
Looking to add a little va-va-voom to your visage? Form Control™ Marine Collagen Gel is here to help! This powerful serum contours and lifts the face, filling in and shaping its least defined areas. With 14 scientifically proven collagen boosters, including our renowned KB5™ Complex, this gel delivers immediate results with long-term benefits. If this isn't on your selfcare checklist yet… now is the time to add it to the top of your list!
The Hydration Trio from O'o Hawaii is your key to glowing, supple skin. This amazing 3-piece kit, for your selfcare checklist, includes The Brilliant Feather Beauty Balm, The Birdsong Eye Remedy, and the Soar Age-Delay Moisturizer and Finishing Polish. The Brilliant Feather Beauty Balm is perfect for overnight deep hydration and day wear. It protects against free radicals and increases circulation to plump the skin for a youthful appearance. The Birdsong Eye Remedy locks in key ingredients for a smooth, pre-makeup pallet while reducing fine lines, wrinkles, and redness. The Soar Age-Delay Moisturizer and Finishing Polish reduces puffiness, increases natural radiance, and boosts cellular energy.
Take your skincare routine to the next level with an innovative accessory such as the Rose Quartz Gua Sha Beauty Tool. Rose quartz is the stone of unconditional love and romance. It is the most important stone for the heart chakra and the heart, opening you up to all kinds of beauty. In skincare, it promotes glowing skin while helping to retain moisture. This tool helps improve skin elasticity, encourages lymphatic drainage, and helps prevent wrinkles. Using O'o Hawaii's gua sha tool, over time, will plump the skin, making lines less visible and skin tone brighter.
The Facial Kit For Oily Skin by Spa Technologies is a complete, customized routine for oily skin. If your skin tends to be on the oily side, just a few hours after washing, consider this addition to your selfcare checklist for balancing out your skin. With seaweed extracts, oil-absorbing clays, and blemish-fighting essential oils, this kit helps reduce excess oil without overly drying skin, reduces the look of pores, and diminishes blemishes to boost confidence. This bundle includes:
Revitalizing Sea Cleanse: Nutrient-dense laminaria algae soothes skin, regulates oil production and decongests pores without overly drying skin. Fresh and earthy, it exfoliates for a radiant complexion.
Sea Mineral Mist: Drive away impurities, exfoliate congested skin, and smooth skin texture. Rich in seaweed extracts, hibiscus flower, and vitamin E, this lightweight mist gives a healthy dose of essential fatty acids and alpha hydroxy acids to soften, plump, and calm irritated skin.
PH Purifying Cream: Red clay and hibiscus flower acid mattify excess oil and balance your skin's pH. Decongest pores with salicylic acid while moisturizing with non-comedogenic hyaluronic acids. Lightweight for daily use.
Sea Clay Mask: French green clay and flower acid decongests and shrinks pores, inhibits impurity growth and controls oil production. A brief, mild burning sensation is normal.
Blemish Spot Corrector: Lift impurities and dry excess oil while nourishing the skin and smoothing large pores. See blemishes shrink overnight. Essential oils of tea tree, rosemary, lavender, and thyme blend with earthy camphor to calm inflamed skin.
Organic Cotton Bag: 100% GOTS certified organic cotton, free of harmful chemicals, and made at a Fair Trade Certified factory. Perfect for travel and gifting.
Turn back the hands of time with the Skin Rescue Wand by Baesix. Baesix designs vegan, cruelty-free skincare for the modern woman. Their innovative rescue wand has multiple benefits, including Radiofrequency (RF), Electronic Muscle Stimulation (EMS), and LED light technologies to tackle acne, wrinkles, and hyperpigmentation.
This fantastic wand will have your girlfriends wondering what skincare routine you follow. Use the wand as directed to reveal healthy-looking skin that is more vibrant and youthful than ever. So if you're a busy Mom or just busy with life in general, get ready to add this to your selfcare checklist and look your best with the Skin Rescue Wand!
Loumi
Glowing skin is always in, so if you've been looking for a natural face oil to help even out your skin tone, Loumi's NEW Rose Glow Face Oil will leave your skin feeling silky smooth and smelling divine. This all-natural face oil nourishes and illuminates with earthy botanicals that help repair damaged skin, and reduce wrinkles, hyperpigmentation, inflammation, and scars while protecting from future damage and free radicals. It also delivers nutrients deep into the layers of the skin using botanicals like jojoba, rosehip, jasmine, and seabuckthorn to help even out skin tone.
Adult acne shouldn't be a thing, but here we are still looking for ways to make it disappear. As such, if you're like us and looking for a ONE STEP acne treatment that works in just minutes, let us introduce you to Truly Clear. Truly Clear is an anti-acne blemish bar for the face and body that combines an FDA-approved acne ingredient with 98.42% natural ingredients that you can actually pronounce for an effective, easy-to-use one-step acne solution that takes just under 5 minutes per application. Results are often seen in as little as two days!
---
Selfcare Checklist for Your Body Care Routines
If you've ever wondered…what are the 3 components of self-care? One of the components would be a weekly self-care checklist pdf to print out to curate your own selfcare checklist. It helps to write it down and schedule what you will use and when for optimal results. Because once you have a printable self are checklist, it'll be easier to stick to and before you know it, your basic selfcare checklist will be habitual.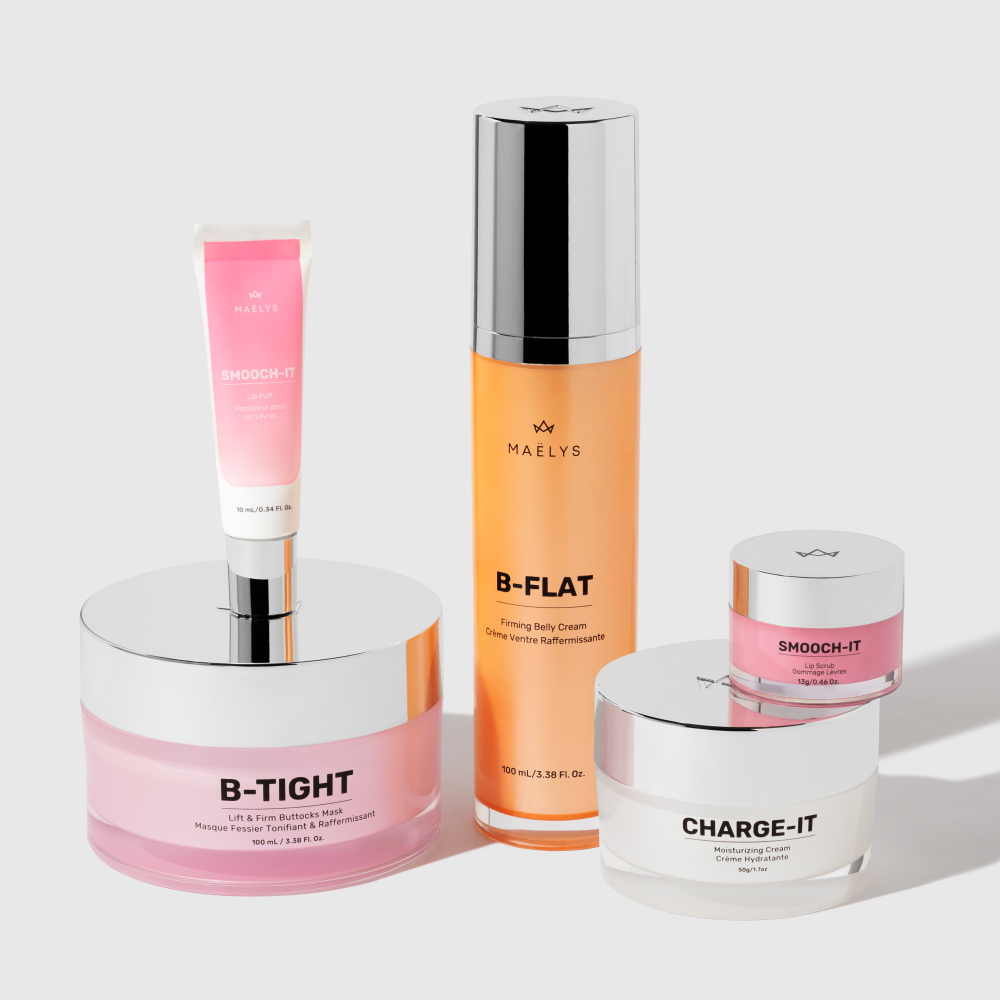 Need a little help to get your body summer ready? The Kiss My Booty Sensual Bundle by Maelys is a bundle of their most-loved must-haves that will provide that extra push to help life, firm, and tighten targeted areas of your body. This selfcare checklist includes:
B-TIGHT Lift & Firm Booty Mask: Clinically proven to reduce the appearance of cellulite and helps to visibly firm the look of skin around the booty and thighs.
B-FLAT Belly Firming Cream: Clinically proven to decrease the look of stretch marks and helps to give smoother-looking belly skin.
CHARGE-IT Enriched Face Cream: Helps to reduce dryness, promotes the look of visibly smoother and less tired-looking skin, and helps to visibly reduce the appearance of wrinkles.
SMOOCH-IT Lip Plumping Kit: Contains 2 products: A pink sugar-based scrub to smooth and nourish your lips, and a clear glossy lip puff to boost your pout to irresistible perfection.
What girl doesn't want to glow? The 100-percent Glow Gradual Tanning Moisturizer gives you a gorgeous, glowing sunless tan. The Luna Bronze Glow Gradual Tanning Moisturizer is terrific for fair and medium skin tones. You can give your skin a beautiful sun-kissed glow by moisturizing daily. The lotion nourishes and hydrates oils in your skin while building an even, natural tan without the harsh rays of the sun. For those sensitive to the sun, this is a selfcare checklist item you must get!
Talk about getting your beauty sleep, because the Good Night Face Bronzing Serum works a bit of magic overnight. You can apply just 2 to 4 drops of the serum directly onto the skin or mix it with your favorite night cream. The Good Night Face Bronzing Serum, filled with Vitamin C, hydrates, brightens and nourishes your skin. Your face takes on a natural glow overnight leaving you looking radiant. Like all Luna Bronze products, the Australian-made natural and organic serum is 100 percent vegan and cruelty-free.
The founders of Luna Bronze are proponents of being sun safe. One of the founders experienced a skin cancer scare in 2015, which resulted in the Luna Bronze organic sunless products. Luna Bronze is offering a limited edition purple chino twill Dad cap that says, "Protect Your Money Maker," (aka your face) in May for Skin Cancer Awareness Month. The comfortable hat boasts a pre-curved visor and an adjustable back strap with an antique brass buckle. Such a fun way to protect your face from the sun, and remind others to do the same.
Make a splash this summer with luxurious bath products from Nectar Bath Treats. Their unique handcrafted bath & body products are creatively designed and made from plant-based ingredients, making them great for sensitive skin.
The aromatic Vanilla Peppermint Crème Cupcake Soap is loaded with premium coconut oil that will keep your skin super moisturized. This tingly handmade treat pairs perfectly with the Champagne Kisses Body Scrub. This super moisturizing body scrub will melt away dead skin cells and leave your skin feeling smooth and supple.
Finally, add a little something to your bedtime routine with the lavender-based Calming Comfort Gift Set. Relax and rejuvenate your body with this set which includes:
1 Midnight Moon Bath Bomb
1 Lavender Blossom Foaming Bath Bomb
1 Lavender Blossom Sugar Body Scrub
1 Lavender Blossom Shea Body Butter
1 Lavender Blossom Whipped Soap
1 Lavender Blossom Pillow Mist
This fantastic gift set has the perfect combination of moisturizing products to help you drift off to sleep. You will wake up feeling refreshed and ready to start your day. If you want to start your summer with the most moisturizing, luxurious, and innovative products on the planet, choose Nectar Bath Treats for all your bathing needs.
Looking for a naturally invigorating way to start your day? Look no further than the Deluxe Clear Start Kit! This refreshing set includes a shampoo, conditioner, body wash, and face cleanser, each with a special blend of natural antioxidants and beneficial botanical extracts. Just one use will leave you feeling clean, soft, and full of shine!
As the Deluxe Clear Start Kit invigorates your senses and nourishes your skin, the refreshing scent of the shampoo and conditioner stimulate your senses, while the body wash and face cleanser gently cleanse, moisturize, and condition your hair, body, and face without clogging pores or causing irritation if you have sensitive skin.
Take a little time for yourself with averal soaps. These triple-milled French soaps are perfect for men who want the perfect combination of moisture and relaxation. With organic ingredients, these soaps will leave you feeling refreshed and invigorated. It's really the idea that soaps are perfect for men too, (don't forget, they need a selfcare checklist too) or anyone who wants to take some time for themselves. With scents like lavender and citrus, these soaps will leave you feeling refreshed and renewed.
Get the healthy locks you always wanted with the Tropical Blend Hair Bundle by ZionHealth. This vegan & cruelty-free trio includes Adama Minerals Vanilla Coconut Shampoo, Adama Minerals Vanilla Coconut Conditioner, and Adama Deep Cleansing Scalp & Hair Scrub. This ultra-rich coconut bundle of shampoo & conditioner will clean and moisturize your hair, giving you healthy, shiny locks that will have you looking your best.
If you want to bring the luster back to your hair, use the Adama Deep Cleansing Scalp & Hair Scrub to make your hair shine. Dry, over-processed hair will receive rich moisture and shine from this mask that gently exfoliates to remove impurities and excess oils, making your hair easier to manage. The Tropical Blend Hair Bundle revives dull, lifeless hair with shine and bounce.
If you are looking for soap bars that won't dry your skin, then the Ancient Clay Soap Gift Bundle is for you. Featuring six clay soaps, this vegan gift pack hydrates and renews tired skin by eliminating dead skin cells and dirt. Ancient Clay Soaps combine Healing Clay with natural and organic plant essential oils, shea butter, and herbal extracts. This set includes Blue Sky, Wind, Dream Cloud, Sunrise, Moon Dance, and Song Bird. Each soap bar contains no sulfates or parabens and is gluten-free. Your hair and skin will be left looking healthy without harsh chemicals when you use any of the wonderful vegan products from ZionHealth.
Looking for a bath bomb that's fun, festive, and full of high-quality organic ingredients? Look no further than these natural bath bombs! These delightful little balls of goodness are perfect for any season and come in a variety of tantalizing scents. Whether you're looking to jumpstart your alone time in the tub or simply unwind after a long day, these natural bath bombs are sure to please. So go ahead and drop one in your tub – we promise you'll step out with a smile on your face!
Relax and rejuvenate with our CBD bath bombs! Made with 100mg of full spectrum CBD oil, these fizzy balls of bliss are perfect for easing tension and restoring balance. Made with 100mg of full spectrum CBD oil, these bath bombs are perfect for unwinding after a long day. Simply drop one into your bathtub and enjoy the fizzy funfetti explosion of aroma and moisturizing oils! Not only will you feel refreshed and rejuvenated, but you'll also get the benefits of CBD without the worry of getting high. So go ahead and treat yourself to a little bliss today with these body-loving CBD bath bombs – a must-have for your selfcare checklist!
Keep your man looking amazing from head to toe with a paraben-free Head to Balls Bundle by Ballsy. The products are crafted with essential oils and plant extracts, which nourish, protect, and keep you looking your best! This incredible trio is designed to keep his nuts, butt, head, and body feeling super clean and confident. So now he can go to the office feeling like a million bucks. The Head to Balls bundle includes:
Shampoo-Cleanses and soothes the scalp and promotes thicker hair
Conditioner Hydrates and softens hair
Ballwash- The activated charcoal deep cleans and moisturizes, leaving you smelling fantastic.
This amazing trio is just what a man needs to keep himself smelling fresh and feeling clean for the whole day.
Get your day off to a fresh start with aluminum-free deodorant from Crystal that will protect you all day long without the harmful side effects of harsh chemicals. These vegan deodorants dry quickly, and the non-irritating formulas are dermatologist-tested, perfect for all skin types. These magnesium deodorants allow you to transition easily from traditional antiperspirants and provide 24-hour odor control. In addition, the deodorants don't leave a greasy residue or white stains on your skin and clothes! They are available in various scents, including Charcoal + Tea Tree, Cucumber + Mint, Sea Salt + Sage, and Lavender + Rosemary. Whichever scent you choose, rest assured that Crystal uses the safest ingredients available. So smell good naturally with these 100% vegan deodorants!
---
Selfcare Checklist for Fun in the Sun
It's one thing to secure your beauty regimen and show some love to your body – now it's time to protect those precious assets! Make sure to include some sun-loving, yet protecting essentials on your selfcare checklist. This way you soak up the summer rays without the damage of those sun rays!
Looking for an easy, breezy way to enjoy the sun? Sun Shield Clear Spray SPF 30 is your new best friend! This zinc-based spray protects you from UVA and UVB rays for up to 80 minutes – perfect for a day by the pool or beach. Plus, it goes on quickly and evenly, so there's no need to fuss with any pesky lotions. Keep your skin looking sun-kissed all summer long!
The Sun Sheild Stick is the perfect sunscreen for on the go. Its mineral-based formula is water resistant and glides on smoothly, providing powerful UVA and UVB broad-spectrum protection. Jojoba and Vitamin E Oils help moisturize and protect skin, while you are reassured that you that you're making the best choice for your skin.
For you summer lotion-lovers out there, for your selfcare checklist, the Replenishing Solar Defense Body Lotion SPF 50 is the ultimate hydrating, broad-spectrum sun protection you'll love to touch yourself with. Formulated with 100% zinc oxide, this lotion helps to prevent premature aging while re-establishing essential moisture balance. It's water resistant for up to 80 minutes, making it perfect for any outdoor activity. So don't let the sun keep you from living your life to the fullest.
Spring is finally here! It's time to pack your bags and head to the beach or a tropical island. Of course, this means you need to nourish and protect your skin from harmful UVA/UVB rays. Unsun is dedicated to providing clean, no-residue, mineral sunscreens for people of all shades, genders, and ages. Protect your face with the water-resistant Mineral Tinted Face Sunscreen. This sunscreen was formulated to cover a range of skin tones from light to medium without leaving behind a shiny residue.
Use the unscented Hydrating Full Coverage Body Lotion with SPF 30 all over your body to protect yourself from the sun while still giving you a natural glow. So keep your skin moisturized and protected from the sun on all your spring adventures with Unsun sunscreens.
You will be ready for the beach with the OLITA Coconut Vacation essentials. This Pack should definitely be included on your selfcare checklist because it includes mineral sunscreen, lip balm, after-sun body serum, and Beach Be Gone®. The reef-safe, OLITA Organic Golden Amber Sunscreen provides you with SPF 30. It bronzes your skin with a golden glow. It's perfect for darker skin tones. The coconut flavored OLITA Lip Balm protects your lips with SPF 14 and vitamin E.
The OLITA Cool Coconut AfterSun Body Serum is a light, soothing oil with a warm coconut fragrance. The nutrient-rich serum provides a cool, soothing relief and softens your skin while restoring nutrients after sun exposure. And, when it is time to leave the beach, Beach Be Gone® helps wick away the sand. It started as a surfer secret, but now everyone can use the "magic powder" and feel silky smooth.
Larkly, mineral powder face sunscreen, was designed by moms for kids. The natural mineral powder goes directly on the skin with no mess, irritation, or tears. It brushes on with an extra soft self-dispensing brush. You never feel sticky like with traditional sunscreens. It's so easy to put on your face, neck, and arms each day, or on squirmy children headed to daycare or the park.
The Larkly Gift Set, which boasts an SPF 30, comes with the brush and a refill cartridge. Larkly is made of 21 percent titanium dioxide and 15 percent zinc oxide – the all-natural key sunscreen ingredients. Of course, the rest of the ingredients in the mineral-based sunscreen are all-natural, too. It includes green tea and licorice root extracts that are antioxidants that include anti-aging properties. The Larkly powder sunscreen is translucent once applied. Larkly is free from parabens and phthalates. The founders of Larkly are Sarah Wilkie and Kerri Faber.
Can you feel the sun calling your name? Answer with Isle Glow—a daily, glow-boosting body sunscreen with broad-spectrum SPF 45. This lightweight and hydrating body SPF illuminates all skin tones with a neutral pearl for an instant island glow without the glitter or white cast. Infused with nourishing island-based ingredients like nutrient-rich Sea Moss, soothing Sunflower Oil and antioxidant, protective Cocoa Seed Butter, this must-have will keep you feeling sunny all day long.
How many times have you been busy having fun and forget to reapply sunscreen on yourself or your children? We've all done it, only to suffer a sunburn later. SpotMyUV reminds you to reapply sunscreen. The UV detection sticker turns clear when covered and protected with sunscreen. When the sunscreen wears off and the sun's harmful UV rays hit your skin, the SpotMyUV sticker turns purple. The purple sticker color is a reminder to reapply sunscreen. It's that simple.
The SpotMyUV sticker uses a skin-mimicking technology known as Dermatrue. As you run, swim, sweat, and play, the Dermatrue technology lets you know right away that it is time for more sunscreen. SpotMyUV boasts a hypoallergenic, latex-free adhesive. Enjoy summertime fun by remembering to apply sunscreen.
---
Selfcare Checklist for Mind & Body Ultimate Pampering
When it comes to your selfcare routine, sure, you can focus all on your beauty ritual and keeping your skin healthy and vibrant. However, for the full holistic effect and a complete selfcare checklist, don't forget about your mindset and the environment to give yourself some peace and calm.
Wake up feeling refreshed with the GuruNanda Halo XL Humidifier. The 2-in-1 beauty & aromatherapy device combines mist with therapeutic essential oils. This humidifier will fill your bedroom with clean moisture and healthy humidification to keep your skin hydrated, soft, and supple with a healthy glow. Just add a few drops of essential oil or any other natural fragrance of your choice to the diffuser. Each 15ml bottle of essential oil is 100% natural and creates relaxing scents that provide therapeutic benefits.
So add the GuruNanda Halo XL Humidifier with an essential oil pack to your beauty routine to get the skin you've always wanted.
Every selfcare checklist should include some form of exfoliation, especially if your skin isn't looking as radiant as you'd like. The Cleanlogic Home Spa Pack can help. Removing dead skin cells a few times a week can help keep skin healthy and reduce dullness.
This antimicrobial set includes nine bathing accessories: Bath and Body Dual-Texture Body Exfoliator – Sensitive Skin, Bath & Body Dual Texture Face Cloth, Sport Exfoliating Stretch Cloth, Sustainable Exfoliating Bath Gloves, Detoxify Purifying Dual Texture Facial Buffers, 4 in 1 Foot Buffer and Brush, Sport Facial Mitt, Charcoal Sea Foam Sponge and Sustainable Pouf.
This summer, banish dead skin cells by adding the Cleanlogic Home Spa Pack to your cleansing ritual. This fabulous set is vital to achieving a youthful, radiant complexion. Glowing, smooth skin is yours to enjoy!
How about you give yourself a little treat next time you shower with something a little different but just as luxurious. Include on your selfcare checklist the Wellness Shower Bombs 6-Pack – a proprietary blend of essential oils designed to open your airways and relax your body as you clean up for the day or unwind at night. Feel at ease and enjoy the sweet aroma of these essential oil Wellness Shower Bombs 6-Pack whenever your shower turns on!
---
Creating a selfcare checklist is a great way to make sure you're taking care of yourself both physically and mentally. It can be as simple as picking one or two items from this list to focus on each week or month or tailoring it specifically to your needs. However you choose to do it, make sure that you take some time for yourself every day – even if it's just 10 minutes. And don't forget to celebrate your accomplishments! Giving yourself credit for completing small tasks will help keep you motivated in the long run.
WANT TO READ MORE?
The Importance Of Self Care and 5 Ways To Indulge without feeling guilty!
GET MORE FROM DAILY MOM, PARENTS PORTAL

Newsletter: Daily Mom delivered to you
Facebook: @DailyMomOfficial
Instagram: @DailyMomOfficial | @DailyMomTravel
YouTube: @DailyMomVideos
Pinterest: @DailyMomOfficial
📌 LOVE IT? PIN IT!📌
Photo Credit: Photo by Toa Heftiba